The impact of workplace incivility
By Pav Johal, Registration Services and Office Manager, UKPHR
Incivility can be defined as rude or unsociable speech or behaviour, displaying a lack of regard for others. In a professional working environment, it can take much more subtle forms such as those listed below (Berenbaum, 2010). It is often prompted by thoughtlessness rather than actual malice (Porath & Pearson, 2013).
Losing your temper and yelling at someone
Rude or obnoxious behaviour
Badgering or back-stabbing
Withholding information
Sabotaging a project; and
Damaging someone's reputation.
The way we conduct ourselves in a professional setting reflects not only on us as individuals but also on our employers. With incivility in the workplace on the increase (Porath & Pearson, 2013), it is imperative that we remind ourselves of the standards we are committed to meeting. Ethical and professional codes of conduct apply to public health practice and the public health workforce.
It is human nature to be frustrated when something does not go the way we plan or hope. When we seek to resolve and learn from the predicament faced, it is important we do not lose sight of our own professional and personal conduct. To do otherwise could affect or undermine the confidence placed in us personally and in the public health profession generally [2.6].
UKPHR's Code of Conduct, 2nd edition, sets out the principles UKPHR registrants must follow in their working life. Registrants are aware that serious or persistent failure to follow the Code will put their well-earned registration at risk. Departure from these principles is something that UKPHR may have regard to in carrying out our regulatory role. We may witness registrants' conduct in our own dealings with registrants or others may report their experiences to us.
Whilst Good Public Health Practice 2016 2nd edition is not statutory or exhaustive guidance, it is a set of standards for all members of the core public health workforce; whether registered or not. UKPHR's Code of Conduct complements the framework and commends the standards of practice contained within it.
As a regulator, UKPHR deems all our specialists, specialty registrars and public health practitioners of equal value, having met the requisite standards for their category of registration. This equivalence ensures that the relationship between regulator and registrant is consistent across the board. No registrants should ever abuse their professional positions [2.2] or relationships [5.5].
UKPHR will not succumb to undue pressures that depart from the organisation's mission of protecting the public and improving practice.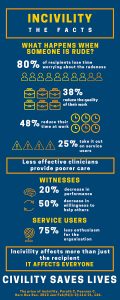 It goes without saying that we all expect others to be honest and fair when dealing with us through all aspects of our lives. For this to be accomplished, we all need to reciprocate and be honest and fair in our own affairs [3.1], speak with candour and not be misleading [3.4]. Everyone deserves to be treated with respect, recognising their dignity as an individual [5.1]. At UKPHR, we do not tolerate inappropriate behaviour towards our staff. This ought to be the case in all public health organisations.
The price of incivility is high, in a survey conducted by Porath and Pearson (2013) of 800 managers and employees in 17 professions, it was revealed that 80% of people on the receiving end lose time worrying about the rudeness and 38% reduce the quality of their work. Incivility affects more than just the recipient; it affects everyone. The survey also showed that witnesses of incivility experience a 20% decrease in performance and 50% experience a decrease in willingness to help others.
Regardless of the intent, it is the interpretation of one's own actions by the beneficiary that defines incivility. UKPHR continues to pledge to maintain high standards of professional and personal conduct in all aspects of our work and we urge registrants to reciprocate in their organisations and in their practice.
[Reference to UKPHR's Code of Conduct]
References
Berenbaum, D 2010, 'Workplace incivility on the Rise: Four Ways to Stop it', Human Resource IQ, http://www.humanresourcesiq.com/hr-talent-management/articles/workplace-incivility-on-the-rise-four-ways-to-stop
Pearson, CM, Andersson LM & Wegner, JW 2001, 'When Workers Flout Convention: A Study of Workplace Incivility', Human Relations, vol. 54, no.11, pp. 1387-419, http://journals.sagepub.com/doi/abs/10.1177/00187267015411001
Porath, C & Pearson, C 2013, 'The Price of Incivility', Harvard Business Review, January – February, https://hbr.org/2013/01/the-price-of-incivility